MEET OUR FOOD SERVICE PROVIDER
The Nutrition Group (TNG) has been providing quality food management services since 1975. TNG's philosophy is to build a food service program with quality and variety for their clients. Student satisfaction directly impacts the success of their food service programs. One way of achieving this is to continually offer the latest trends in customer-oriented food service with a focus on health and wellness. They believe that providing a wide variety of choices and educating students on the importance of making healthy selections is the perfect recipe for success!
For Questions or Additional Information, Contact:
Alexis Buck, Food Service Director
The Nutrition Group, Inc. (TNG)
814-899-7643 ext. 1509
Email: lbuck@iroquois.iu5.org
Summer Meal Distribution - June & July
Iroquois School District is committed to providing access to nutritious meals to school students. The details of meal distribution during June and July are noted below. Please look for updated information on the District website. (There is a link on the district website for Summer feeding sites during August, prior to the start of school).
For planning purposes, we ask that you sign up for meal pick-up using this link: https://forms.gle/z7USAguhyvxjH2398
Meals will be provided if you are unable to respond. Please let the staff know if you will be returning and you will be added to the list.
Bagged Breakfast & Lunch meals will be available for pickup from 11:00 am to 12:00 p.m. on Tuesdays (3 days of meals will be distributed) and Thursdays (4 days of meals will be distributed) each week:
Iroquois Jr./Sr. High School – Pull up to the tent in the back circle driveway at the Community Lobby/Gym entrance

Wesley United Methodist Church (South and Station Rd.) – Follow the parking lot signs to the school district van, which is serving as the distribution site.
Parents and student drivers are to remain in their cars and staff will bring the meals to you.

Walkers may also be served. For your safety, please stay clear of the driving lanes. Students may not congregate at the site after meal pick-up.

Children DO NOT need to be present to pick up the meals ( temporary change to minimize potential exposure)

Number of meals given will be based on number of children in the household

Open to any child 18 years & younger.

Do not have to attend Iroquois School District.
Thank you!
Questions? Please contact Alexis Buck, 814-899-7643 ext. 1306
Summer Food Rocks! Use our 2020 Site Finder to locate USDA Approved sites in your neighborhood. Free Electronic Meal Counter app replaces the paper meal form. Use on any phone or mobile device. Summer Food Service Program 2020.
Raise Awareness| USDA-FNS
Promoting summer meal sites in your community is one of the most important things you can do to ensure no child goes hungry this summer. The more parents, children, and teenagers know about where sites are located, the more children will come to eat.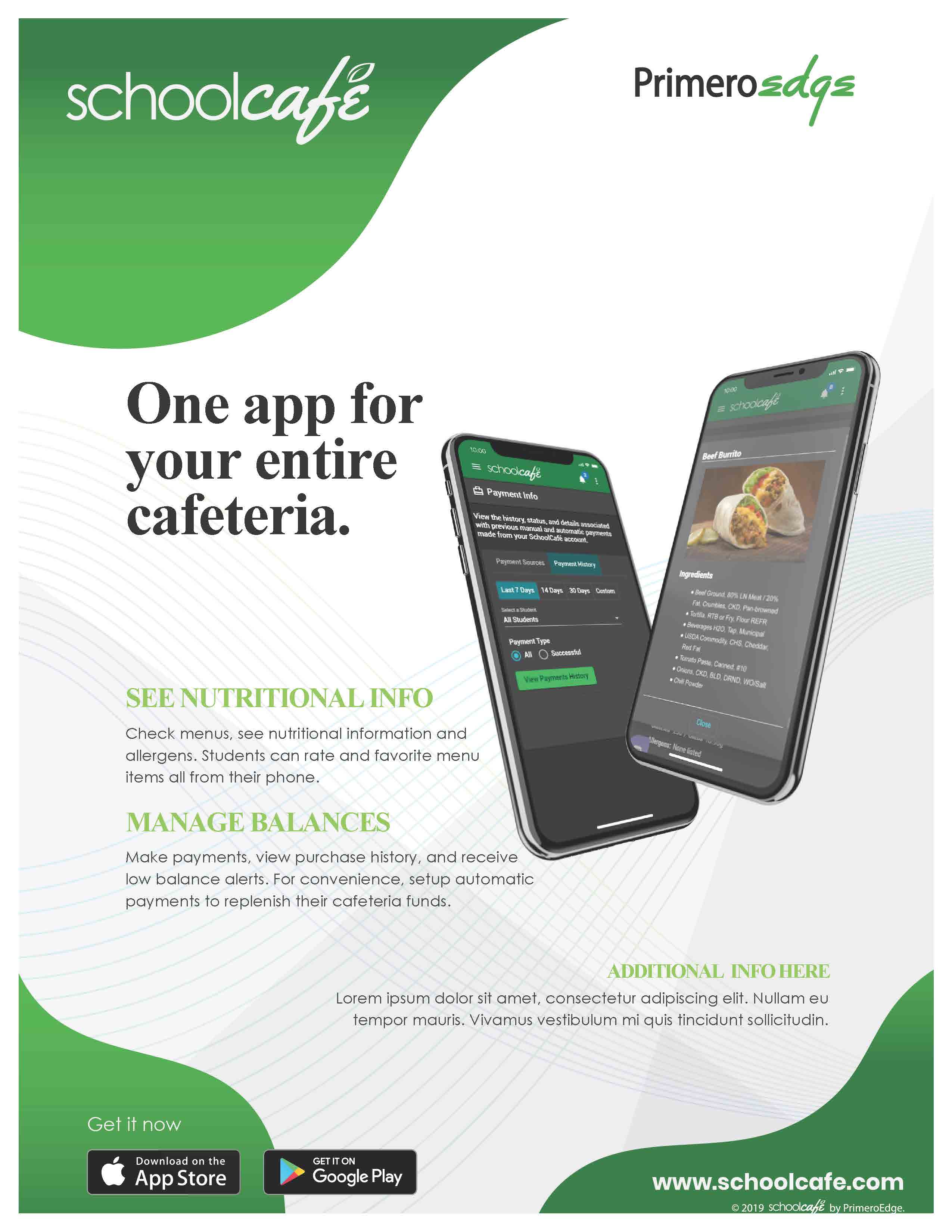 You can view the menu, nutrition facts, carbohydrate counts, and allergy information for all Iroquois schools. PrimeroEdge is very easy to use and allows access to the information you want in seconds!
PRICING
For the current school year, both Iroquois Elementary School and Iroquois Jr./Sr. High School have been approved for the CEP program. This program provides free meals to all students.
This does not, however, include Ala Carte items that students may choose to enjoy. All Ala Carte food items must be purchased by the student.
ELEMENTARY SCHOOL A LA CARTE PRICE LIST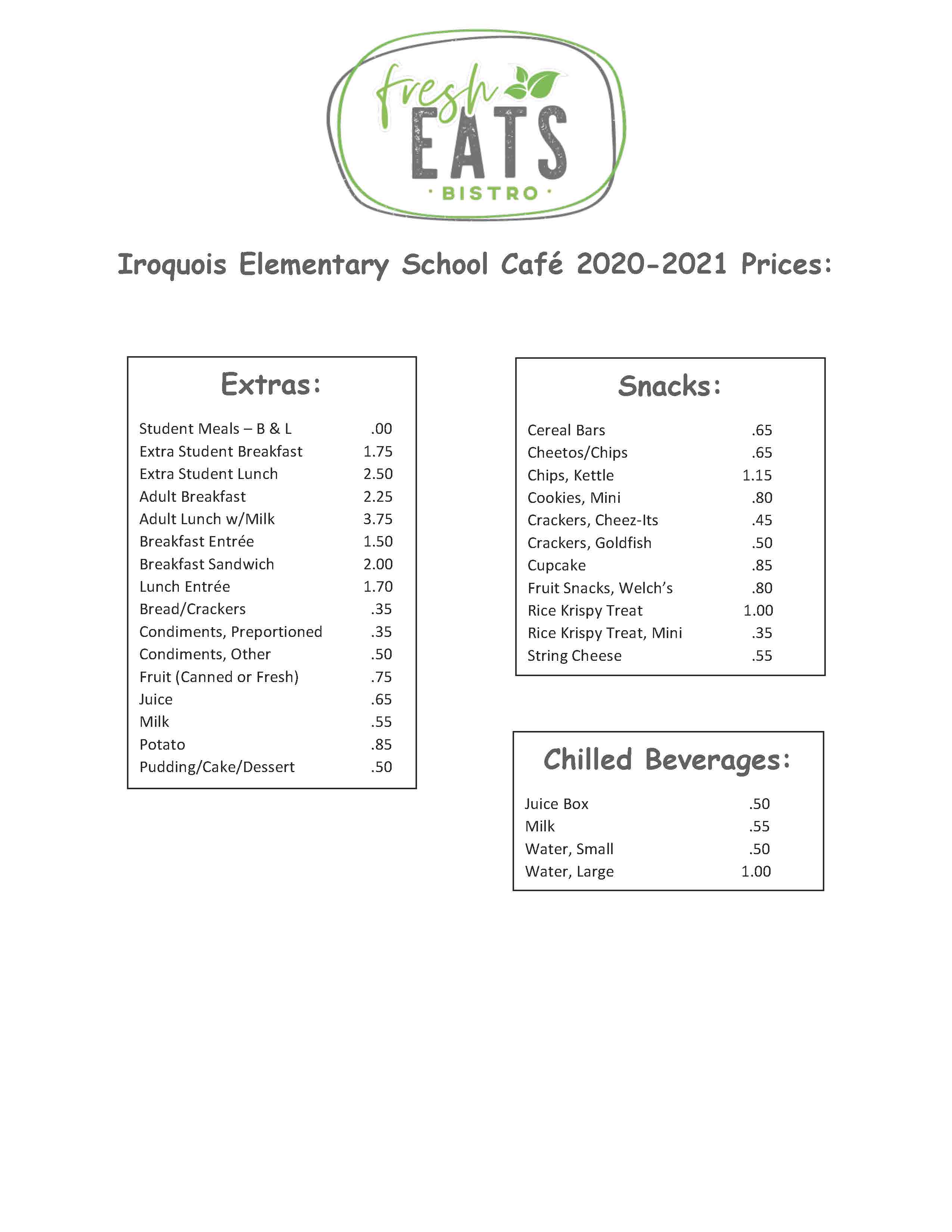 JR/SR HIGH SCHOOL A LA CARTE PRICE LIST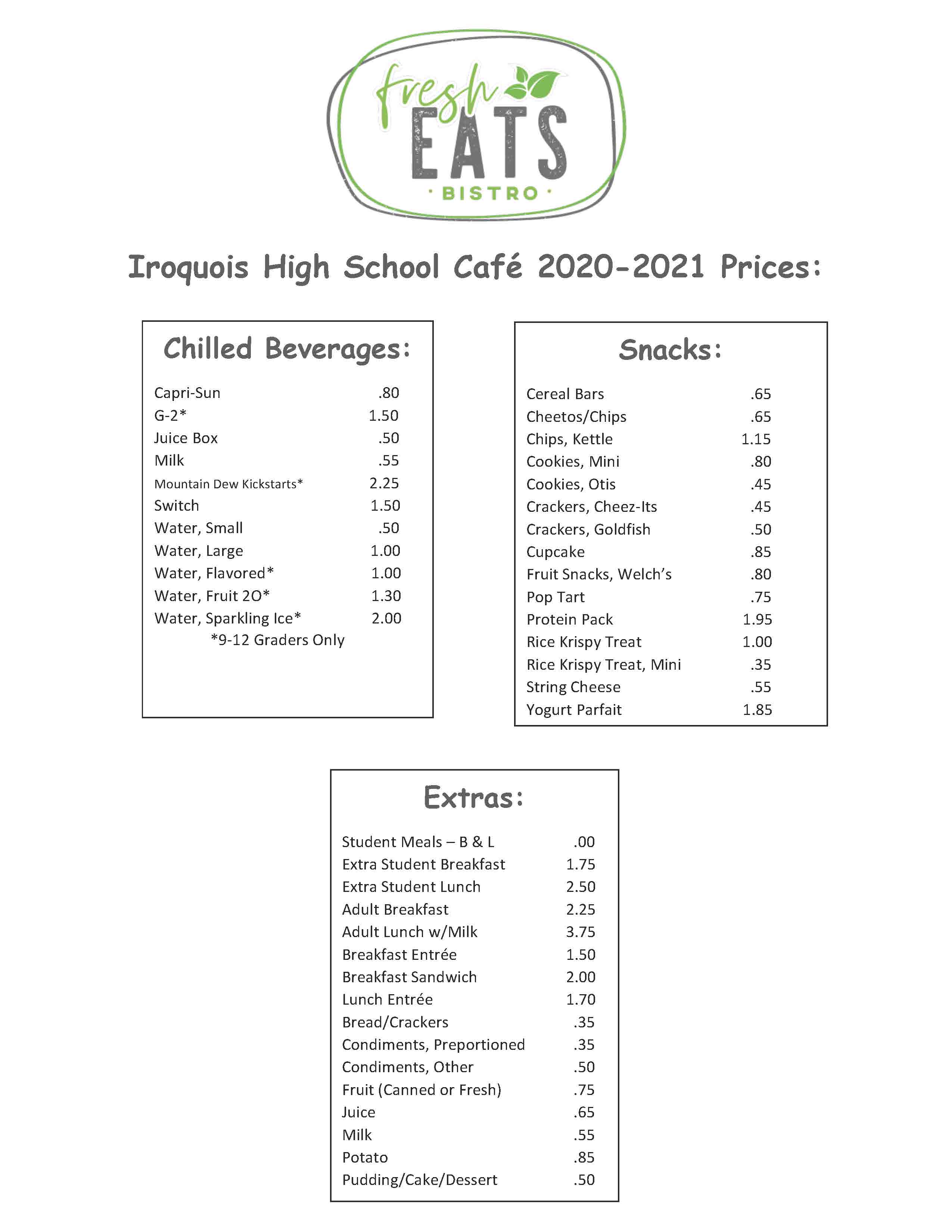 COMMUNITY ELIGIBILITY PROVISION (CEP) PROGRAM
Under the Community Eligibility Provision (CEP), the Iroquois District will be offering a free breakfast and lunch to all students from Pre-K to 12th grade at both the Iroquois Elementary School and the Iroquois Jr./Sr. High School for the current school year. Applications for the free/reduced price meal program are not required in order to qualify for free meals. However, in order to qualify for other programs and grants benefiting students, which are based on household income levels, the District will be sending out a household income data collection survey to gather this information. This survey is being sent home with the students during their first week of school. If you don't receive the survey or need an additional copy, it can also be downloaded from the link below.